When it comes to vision care products, it is important to understand that they are not all created equal! There is a large variance in quality and craftsmanship across the eye care industry. We take pride in using a wide-range of top quality materials with great product support to provide you with the best possible eye care products. We meet regularly with manufacturer's representatives to make sure that we have the latest and greatest available. Our value is in knowing what is available and what best meets your needs.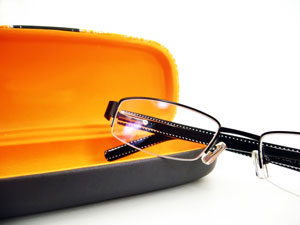 When considering where to purchase your eyeglasses, contact lenses, and sunwear, remember to consider the following. . .
Total Eye Health - The health of your eyes is our major concern. We will provide you with a thorough eye exam and leave no stone unturned if there is any issue concerning your health. We also want you to have sharp vision and great comfort with our vision products. That is why we stand behind our products and services with solid warranties and a professional, well-educated team. If you have any problems with your new prescription glasses, sunwear or contacts, please don't hesitate to let us know so we can have you return to recheck your vision and prescription at no charge. If you're not happy, we're not happy.
Different prescriptions require certain frame styles and lens treatments in order for your glasses to perform well and look great. Our trained opticians can guide you through this process. Our dispensary has over 800 frames from which to choose from, including a large selection of children's frames. We can help you find the size, shape and color of frame that is perfect for all your family members. When it comes to contact lenses we offer a full spectrum of the latest and best performing products. We have contact lenses such as colored contacts, contacts for astigmatism, contacts for patients who may have damaged eyes that need cosmetic coverage or contacts for corneal diseases like keratoconus. Even if you have been told before you cannot wear lenses, we may have a solution that is right for you.
Competitive Pricing - At Nevada Eye Care Optometry we offer the highest quality eye care at competitive prices with affordable eyewear and eyecare products. We're happy to spend time with you to provide the care you need and we pride ourselves on doing a throrough job. If we prescribe your contact lenses, we also offer savings if you purchase a years supply of contacts from us (not applicable when using insurance). You are welcome to take advantage of any manufacturer rebate programs and special promotions through our office when available. Be sure to ask about our convenient contact lens direct shipping program if you order your contacts on line from our website.
Convenience - Nevada Eye Care Optometry offers a wide selection of products in our office as well as custom orders. We use only the highest quality materials and will recommend eyewear and contact lenses that fit your lifestyle and look great.
Warranty - We offer a one-year frame and lens warranty. If for any reason under normal wearing conditions your frame breaks within a year of purchase from us, return the broken frame and we will replace it. Should your scratch coated lenses get damaged within a year of purchase from us, return the lenses and we will remake them. Finally, with our "Guaranteed Contact Lens Program", you will love your lenses or we will take back all the remaining unopened boxes of contact lenses you purchased from us within 90 days from the date of purchase and give you credit towards the purchase of a different brand of contact lenses or new eyewear should you no longer wish to wear contacts. (Eye exam and contact lens fitting fees are non-refundable. The difference in fitting fees for a different brand of contact lens will be applied if a difference exists. Guarantee applicable only to standard contact lenses; non-applicable to specialty contact lenses.)
Free Adjustments and Emergency Repairs - Your prescription glasses and sunwear are an investment in your vision, eye health and appearance, so when you buy your eyewear from us we want to help you maintain it in top condition. PLEASE don't hesitate to bring it in for free repairs, adjustments and cleaning whenever you have a concern.